A brand new breed of Kayak from Hobie! The Hobie Mirage Lynx. With its lightweight hydrodynamic hull the Lynx is the newest pedal kayak in the Hobie Fleet.
Featuring the MD180  MirageDrive with Kick-Up fins , bask in the power of pedal propulsion, with full power forward and reverse. The sleek lightweight streamlined Hull of the Lynx combined with the effortless power of the Mirage Drive gives an epic and speedy ride.
Kick it up a notch, as you swiftly skim across the water's surface, carving turns and leaving the world behind. The Lynx's flat-bottom design provides confidence-inducing stability and ultimate manoeuvrability. Less is more when it comes down to construction. Lightweight materials meet optimal performance with ACE-TEC Technology that is tough enough for weekends off the grid, exploring uncharted waters, and a good thrashing at the lake with your kids.
Weighing in at only 20.41kgs, and equipped with rear loading skid pads, easily throw it on the roof of your car for uncomplicated transport. The best seat in the house, designed for comfort with breathable, mono-mesh, elevated to keep you dry all day. The wide bow creates a smoother ride and ample storage for your gear. Meticulously crafted with moulded in tracks and an accessory mount, make it yours with our Sail Kit, Bimini Sunshade and other upgrades.
Delivery Available for North Coast NSW @0266451120, DEMONSTRATIONS AVAILABLE.
SPECIFICATIONS
CREW: 1
DRIVE: Hobie MD180 MirageDrive w/ Kick-Up fins
LENGTH: 3.35 m / 11 Feet
WIDTH: 91.50 cm / 36 inches
CAPACITY: 158kg / 348.33 lbs
FITTED HULL WEIGHT: 20.41 kg / 45.00 lbs
FULLY RIGGED WEIGHT: 27.67 kg / 61.00 lbs
STANDARD FEATURES
Durable and Lighweight ACE_TEC construction
Rear Skid loading Pads and Stackable for easy transport
Two-Piece Paddle with On-Hull Storage
Elevated Alloy seat Frame with Mesh seat & backrest
MirageDrive 180 with Kick-Up Fins
Removable Rudder
Flat Low-Profile hull delivers speed and manouverability
Moulded in Accessory Tracks

EVA

 Floor Standing Pads for extra comfort
Mast/Bimini/Accessory Mount
FishFinder and PowerPole Ready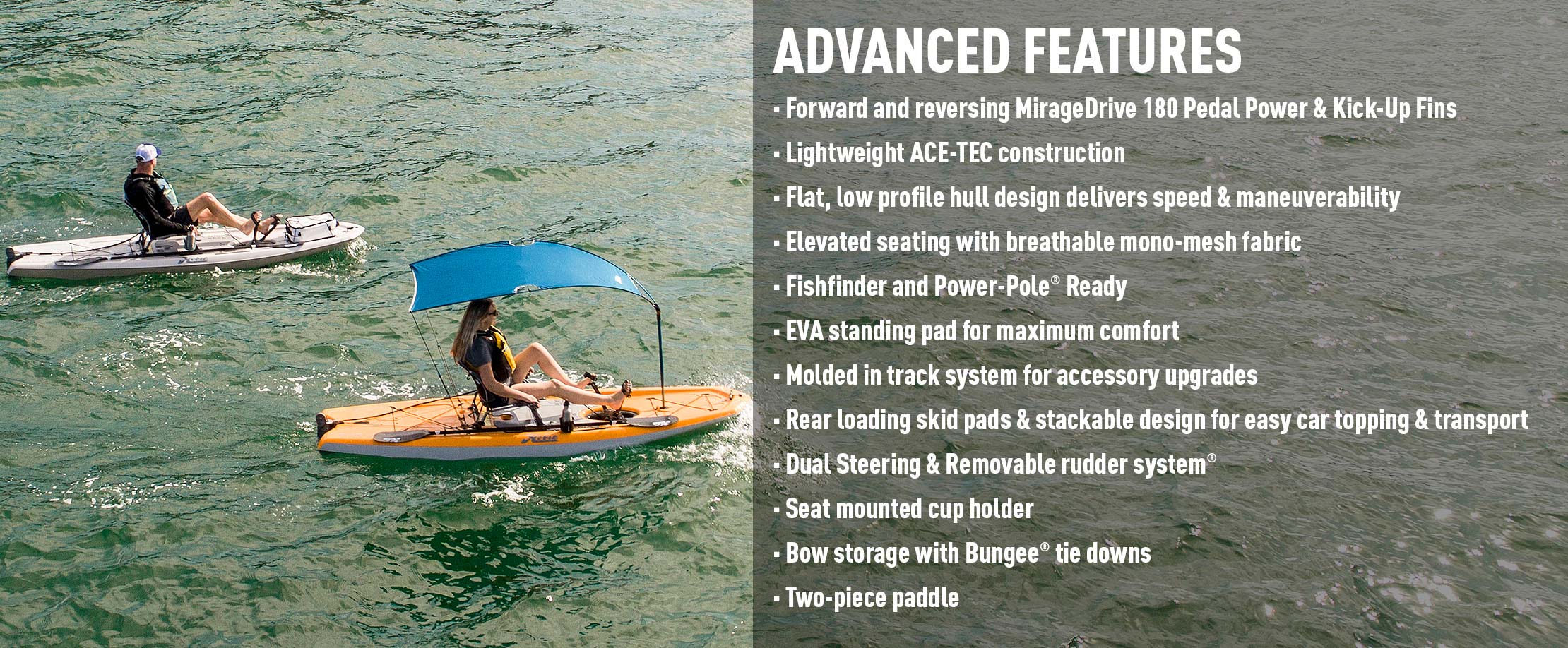 COLOURS